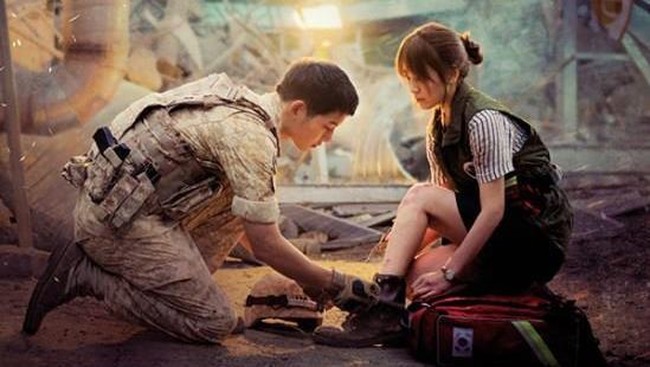 Foto: KBS 2TV.
Mungkin memang terlalu banyak adegan manis di sepanjang 10 episode 'Descendants of the Sun'. Tidak hanya antara Kang Mo Yeon (diperankan oleh Song Hye Kyo) dengan Yoo Shi Jin (diperankan oleh Song Joong Ki), tetapi juga antara Seo Dae Young (diperankan oleh Jin Goo) dan Yoon Myung Joo (diperankan oleh Kim Ji Won). Adegan-adegan manis yang menghipnotis penonton dan terkadang membuat lupa bahwa drama ini juga perlu konflik.
Kondisi Uruk pasca gempa bumi sudah mulai stabil, namun masalah antara Big Boss dengan Argus (diperankan oleh David Lee McInnis) sepertinya semakin serius. Mengingat kini Yoo Shi Jin sudah tidak lagi diperbolehkan ikut campur dalam urusan pasar gelap senjata yang menjadi bisnis kotor sang mantan tentara. Dia diperintahkan untuk menjauh dari semua hal yang berhubungan dengan Argus.
Tapi bukan berarti semuanya baik-baik saja. Tentu membosankan kalau 'Descendants of the Sun' hanya diisi adegan-adegan manis para pemainnya dan kata-kata rayuan cheesy dari Song Joong Ki. Di episode 10, terjadi hal yang tidak terduga dan mengancam nyawa seorang dokter di barak militer Korea Selatan di Uruk.
Virus ini bukan mendadak muncul. Bos Haesung Solar Power, Manajer Jin (diperankan oleh Jo Jae Yun) yang selama ini terlibat bisnis gelap perdagangan berlian adalah penyebabnya. Usahanya untuk kabur dari Uruk ke Korea dengan membawa puluhan butir berlian berujung mengancam nyawa. Tidak hanya dirinya sendiri, tetapi juga dua dokter yang bertugas di barak militer Uruk.
Kang Mo Yeon dan Yoon Myung Joo dilanda ketakutan. Tetapi tak ada yang lebih takut dari Seo Dae Young yang di episode sebelumnya sudah diizinkan untuk berpacaran dengan Myung Joo. Tentara berbada kekar itu sempat menangis sambil memeluk sang kekasih karena satu di antara dua dokter itu positif terkena virus yang diberi nama M3.
"Ini salah satu virus yang sudah diidentifikasi oleh WHO (World Health Organization). M2 adalah virus yang sedikit lebih parah dari flu. Sedangkan M3 berarti kondisi pasien tidak lebih buruk dari Ebola," jelas dokter Song Sang Hyun (diperankan oleh Lee Seung Joon).