Bagi para penggemar drama korea pastinya tau drama yang lagi booming saat ini. Drama yang ratingnya mengalahkan rating drama Kim Soo Hyun pada drama 'My Love From The Stars' beberapa waktu lalu.
Yuuupp.. 'Descendants Of The Sun'. drama yang di perankan oleh Song Joong Ki dan
ini merupakan drama terbaru dari Song Joong Ki setelah selesai menjalani wamil. drama ini tayang perdana pada Februari 2016 lalu, dan saat ini telah melewati episode ke 8.
Song Joong Ki saat lepas wajib militer Mei 2015 lalu
Song Joong Ki dalam drama 'Sungkyunkwan Scandal'
'Descendants Of The Sun' merupakan drama romantis yang mengangkat kisah cinta dan ambisi seorang tentara muda dan seorang dokter. Song Joong Ki menjadi Yoo Si Jin yang merupakan Kapten tentara khusus dan Song Hye Kyo yang memerankan dokter Kang Mo Yeon.
Yoo Si-jin (Song Joong-ki) adalah kapten pasukan khusus.
Ia menangkap pencuri sepeda motor dengan Sersan Mayor Seo Dae-young (Jin Goo).
pencuri terluka selama penangkapannya dan dikirim ke rumah sakit.
Dae Young menyadari ponselnya dicuri oleh pencuri dan pergi ke rumah sakit untuk mengambil ponselnya.
Di ruang gawat darurat, Si-jin bertemu Dr. Kang Mo-yeon (Song Hye-kyo) untuk pertama kalinya.
Ia jatuh cinta dengan
Mo-yeon, namun Kang Mo Yeon menganggap Si-jin adalah bagian dari geng kriminal pencuri.
Dia membuktikan bahwa dia adalah seorang tentara dengan bantuan dokter tentara Yoon Myeong-joo (Kim Ji-won).
Si-jin dan Mo-yeon mulai berhubungan baik, namun karena pekerjaan dan waktu mereka tidak berjalan dengan baik.
Si-jin diberi perintah untuk memimpin tentaranya dalam misi penjaga perdamaian ke negara Urk.
Sementara itu, Mo-yeon marah karena ia gagal menjadi profesor karena latar belakang istimewa rekan kerjanya.
Ketika Si-jin dan Mo-yeon bertemu lagi, mereka berbicara tentang pandangan mereka tentang kehidupan dan menyadari betapa berbedanya mereka.
Si-jin, sebagai seorang tentara, membunuh untuk melindungi kehidupan dan Mo-yeon, sebagai dokter, mencoba untuk menyelamatkan semua kehidupan.
Mereka mengatakan selamat tinggal.
Delapan bulan kemudian, Mo-yeon yang menarik hasrat seksual dari ketua rumah sakit Han Suk-won (Tae In-ho), namun Mo-Yeon menolak dengan tegas dan sebagai retribusi, dia ditugaskan untuk memimpin relawan tim medis di Urk.
Si-Jin dan Mo-Yeon bertemu kembali di Urk.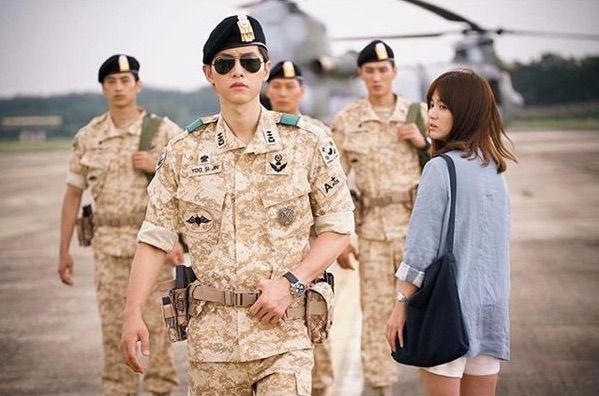 Main Cast
Tae Baek Army
Kang Shin-il as Lieutenant Genera Yoon (Myung-joo's father)
Kim Byeong-cheol (김병철) as Lieutenant Colonel Park Byeong-su
Park Hun (박훈) as Sergeant Choi U-geun (Piccolo)
Choi Ung (최웅) as Staff Sergeant Gong Cheol-ho (Harry Potter)
An Bo-hyeon (안보현) as Sergeant Im Gwang-nam
Kim Min-seok (김민석) as Lance Corporal Kim Gi-beom
Haesung Hospital Medical Services Team
Lee Seung-joon as Song Sang-hyun (General Surgeon)
Onew as Lee Chi Hoon (1st year resident of Thoracic Surgery)
Seo Jeong-yeon (서정연) as Ha Ja-ae (ER Nursing Team)
Park Hwan-hee (박환희) as Choi Min-ji (ER Nurse)
People at Haesung Hospital
Hyun Jyu-ni as Pyo Ji-soo (Pathology Specialist)
Tae In-ho as Han Suk-won (Chairman of Haesung Hospital)
Park Ah-in as Kim Eun-ji (Thoracic Surgery Specialist)
Jo Woo-ri as Jang Hee-eun (1st Year Resident of Anesthesiology)
Urk Area
Cho Jasper as Daniel Spencer (Peacemaker Emergency Doctor Team)
Jeon Soo-jin as Ri Ye-hwa (Peacemaker Emergency Nurse Team)
David Lee McInnis as Argus (Black market Boss)
Others
sumber :
wikipedia